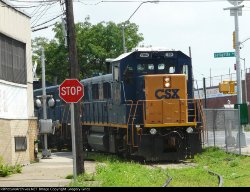 Welcome to the RRPictureArchives.NET contributor site of Gregory Grice.



Hello all! My name is Gregory Grice and I am a railfan, like many on RR Picture Archives. Since I was a little kid I've enjoyed Transportation, trains specifically and have grown to ride them and learn more about them. I currently reside in White Plains so many of my photos are from Metro North, NJT, and Amtrak in New York, Connecticut, and New Jersey but you will find great photos from other locations as well! Hope you enjoy my rail photos!

Below are some links to other pages I have and useful websites that are transit related:

My YouTube Page: http://youtube.com/gregorygrice

Usefull Transit Sites: http://railroad.net



You may browse my collection of pictures via the menu located on the left hand side of the page. I hope you enjoy the collection and thanks for stopping by!
Note: This site is best viewed in Internet Explorer 6.0 or above.
Select one of the links from the menu on the left to begin browsing the collection.